The facts are these: I'm a Southerner and I was raised in the tropics. Ergo, I love quiche and any thing under 70 is considered full blown winter to me and my kind. While my thin blood will probably never truly be comfortable in the snow, somewhere in my family's distant past we must have been a pack of Nords because I love me some winter clothes.

Amongst the swarms of autumn/winter looks that stomped around the runways, my favorite, hands down, was Burberry Prorsum. The classic London house offered up a beautiful line of soft, chic aggression in a muted color palette with aviator and military accents: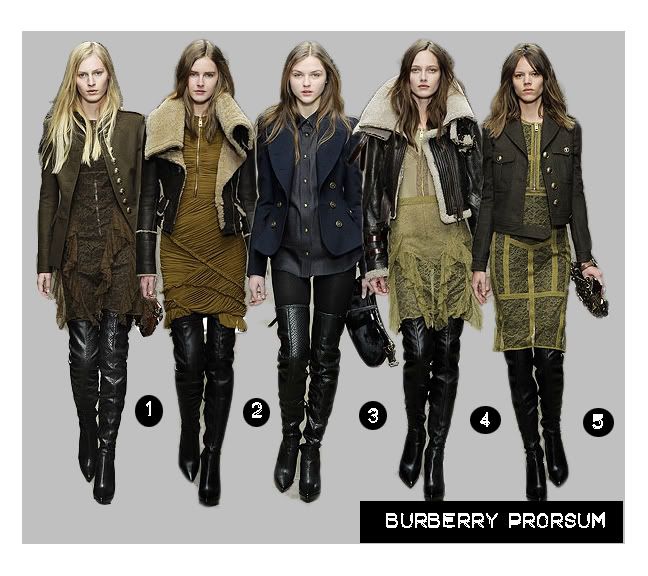 1. The one element that carries over to every one of these looks is those killer thigh high boots. The rifle brown lace and super structured military jacket is unexpected pairing and the color schemes is a mellow mood cleanser from the previous season's light neutrals and graphic prints.

2. The first thing I though with this piece is "omg, Rogue from the X-men!" Not 00's Rogue with her wimple and green and white. Awesome 90's Rogue with her ubiquitous aviator bomber jacket. The texture on the muted olive dress is wonderful and helps to blunt the edge of the shearing jacket and boots.

3. I love black and navy together. And I especially love that blazers look to be making a come back. The cute little slate grey oxford? I've got a clone already in my shopping cart. Of the five I yanked off the runway shots, I think this is the most translatable.

4. Oh lace, our love hate relationship might have actually found a happy ending. Another shearing jacket, slightly over sized, this time matched with a sweet little pea green lace dress. The pairing is lovely.

5. Of the five, there's already a piece in my closet that could lend itself to having an outfit built around it as a nod to London Town chic. The chartreuse sheath dress is also one of the more graphic of the bunch, with its bold structure lines and zipper details.

Now, the reality is that if I could afford to own these actual pieces, I'd die happy. And then be buried in my fabulous fashion splendor. But that boat ain't pulling into port anytime soon. So, I'm left with scavenging for cheaper alternatives: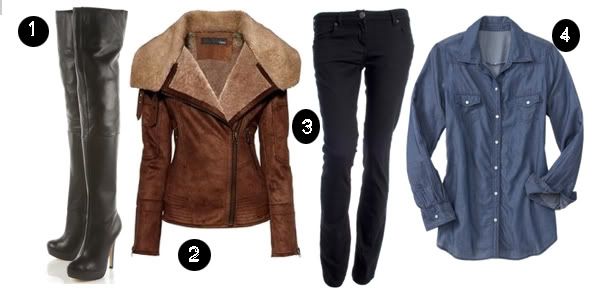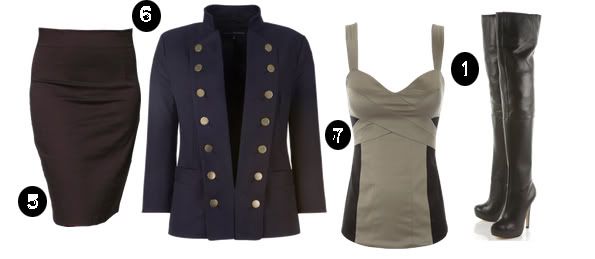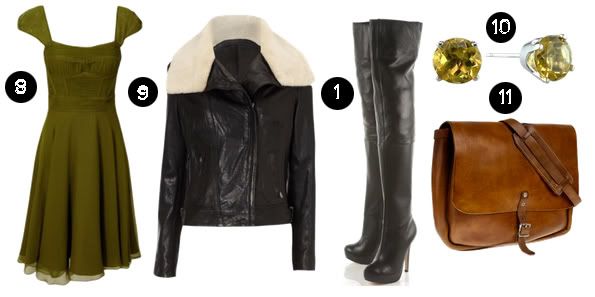 1. Now, as I said before, the thigh highs are the mark that ties all the looks together. This pair from TopShop is a bit out of my reach at $250, but for as much use as they'd get through a/w and into the forever of my life, they might be worth it.

2. Personally, I think aviator jackets are like a strand of pearls. Every girl should have one. Aside from the look I'm going for with any of these, a great jacket like this would be a great way to carry me through the two and a half chilly days I'll receive in Sunny Bunny F-L-A. $117 from Next.

3. I've never been a fan of the skinny jeans, but if it means I can get those thigh highs up and on, I'm willing to make a heartfelt concession. I found these non-drastic pair at Republic for about $40.

4. With the Western look vying with the military look for dominance this season a Chambray shirt should be a staple in everyone's closets. The great thing about the western trend is that these shirts are mega easy to find right now on the cheap. Old Navy has them right now for $20.

5. Another fixture to most girls' closets should be the pencil skirt. They come in all manners of quality and can squeeze to meet the budget constraints of any fashion-y lady. Target. Another $20 find. God bless Target.

6. Blazers are always a great place to showcase new hardware. Like brooches or buttons. But mostly brooches because I love the shit out of them. They're also a tailored garment that can instantly sleek up a outfit. $70 from John Lewis.

7. Love, love, love the tailoring and monochrome contrasting on this corset top from Jane Norman. It's also on sale right now for $40.

8. I had this gorge green dress from Madaboochoo tucked away in my girl porn folder. Sadly, the Australian shop has gone out of business, and apparently under bad circumstances, judging by the gabbing in the forums. Still, I love it, and if I could have bought it, it would have been a perfect addition to the little fashion fantasy I've got going on here.

9. Another John Lewis discovery. Pricey at $220 but I've found much cheaper alternatives at Target recently closer to the $35 mark. Nice, simple, effective.

10. I've featured these pretty little studs before that I got off Amazon for a ridiculous 3 bucks.

11. Another investment piece would be this satchel from J. Crew. At about $200 it would have to be a permanent part of my daily ensemble, but I can almost just talk myself into it. But the thigh highs are still winning.