Holiday Hell is rapidly approaching and while I don't actually expect anyone to get me anything off my list, I do still make them so I know what to get myself as a treat, especially with tax return season just around the bend.

And let's face it, the gift you get for yourself is the gift you're gonna love. Allow me to present Greed Fest 2010: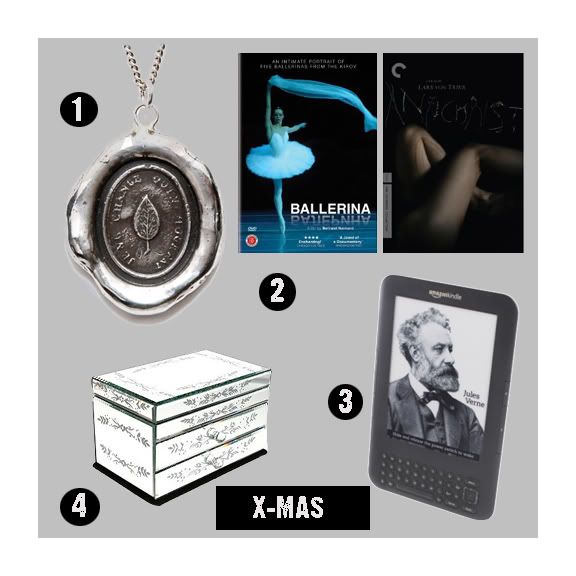 1. I've been eyeballing this talisman from Pyrrha for months now. At about $140, I'm not sure if and when I'll be able to get it, but months later, I'm still opening it up in my favorites to have a look at it.

2. I've probably watched this documentary fives times in the last several months. Ballerina is an examination of the Kirov Ballet, and features one of my all time favorite dancers, Diana Vishneva. Also, I've gone on and on about how much I love Lars von Trier's Anti-Christ. They just released the Criterion edition of it so I'm salivating. At $12.99 and $22.99 these are two titles I'll definitely be treating myself to sometime in the near future.

3. It only took me eight months to max out my Sony Pocket E-reader. Eight months. That's gotta be a record, or at the very least, disturbing and impressive. So, the last couple weeks I've been researching upgrading to a Kindle. Specifically, the Kindle 3G. I don't have a smart phone, so this can sub as one as well as being able to carry 3,500 books, which should last me a while, even considering the books I already have for my Kindle PC that are incompatible on my Pocket. $189 is a reasonable price, but I'm still not about to take the plunge on this one. That's what tax season is for.

4. Last but not least, I need a new jewelry box. My wooden one is just fine, but I'm entranced by this art deco mirrored box from Urban Outfitters. I'm in one of those stages where I can feel my style shifting again and this clean looking piece would fit right in. $48 for the large style, but there's also a mini version perfect for earrings and brooches available for $24. You really couldn't loose with either.

Whether you're shopping for yourself or someone else, remember to be nice to that poor human behind the counter. No matter how much you might be frustrated with holiday shopping, trust me, they're having a worst time than you are.