So I've found myself playing around with a lot of make-up lately. For me, that can be kind of a big deal, since I'm typically a sunblock-mascara-lipstick and go kind of girl.

Now, I realize this new look is more summer than winter, but you gotta remember, I'm a Florida girl and on the whole I'm definitely more Miami than Milwaukee but you work with what you've got. All of this in mind the new appearances in my make-up bag are still pretty low key, because in the spirit of staying true to yourself, I am lazy.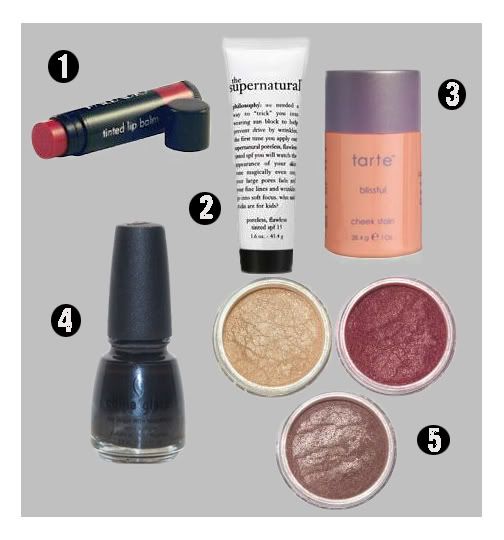 1. Palladio lip balm from Sally's is something that's been in rotation for me for a couple years now. It's got the perfect blend of sheer color and moisturizing balm. Plus, at $3 a tube, I can afford to loose and replace without too much self hate. I almost always stick with their shade, Rosey, but they have heaps to choose from.

2. Philosophy's The Supernatural was actually something I was pretty damned hesitant to try. I don't wear foundation normally and at $30 a pop, I never would have bought it for myself if I hadn't first received it as a gift. I don't know that there's a way for me to describe just how light this stuff feels going on. It's like air. Essentially slightly tinted sunblock, it has the added feature of being a mouse-type cream that seriously minimizes your pores. I don't use it all over, just on my cheeks and t-zone.

3. Another gift that I usually wouldn't use due to cost. Tarte's cheek stains are legendary at this point and for good reason. A couple of weeks ago my mother tossed me a Sephora bag full of goodies, this being one. When I was in high school, the only color available was Flush shade, but I've been using Blissful, which is more a warm peachy color rather than a raspberry. And I love it.

4. I've been trying to grow up my little goth girl inner self, without defaulting to my standby of black. Of course, me going for a slate gun metal grey isn't exactly a massive shift, but it's enough of one for me to qualify it. My addiction to China Glaze nail polish is apparently everlasting with my latest acquisition of Black Diamond.

5. I've never really given much thought to mineral makeup. One, I don't really use a lot of eye shadows and two, shit's expensive. By all accounts, MICAbella employs some pretty pushy sales people. To the point that they might as well be barkers at the carnival, by all accounts. However, they do make a damned decent product. I've been favoring some earthy colors lately- taupes, burnt clay, rock colors.

Lord only knows how long I'll be playing around with the current color palette but, for now, I feel like it's working. For this season at least.