I'm her. I'm that total jackass friend of yours who, while the rest of the country is battling blizzards and black ice, she lives in South Florida, three minutes from the beach, and never in her life has ever even seen a snow ball.

And it's true. Excepting my college years in landlocked Northern Texas, I've never lived more than four minutes from a beach. A warm beach. An Atlantic freaking Ocean beach. It would be fair to say that I'm the tropical type. I'm the type that my Yankee friends call "thin blooded". Rightly so.

I had a fantastic childhood. Diving, boating, The Bahamas, skin surfing, that was all part of it. All of that stuff is still a part of my life. And now that I'm back in my homestate I've realized something I never thought I'd say: for the first time in my life, I don't own a bathing suit.

It's a little shocking. Ergo, time to shop. And also maybe watch Blue Crush again.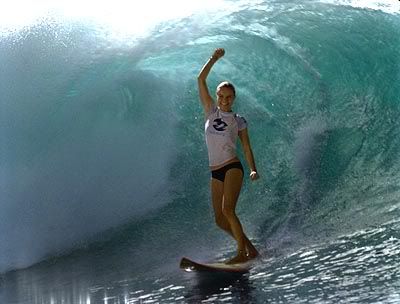 Now, despite being a Florida girl, I've never been much of a sun bather. I'm an extremely fair skinned woman, and as such, I basically soak in SPF 75 on a daily basis, least I fry. Also, I'd much rather actually be in the damned ocean than next to it. As such, my beach wear tends to lean a lot more towards the active side of things.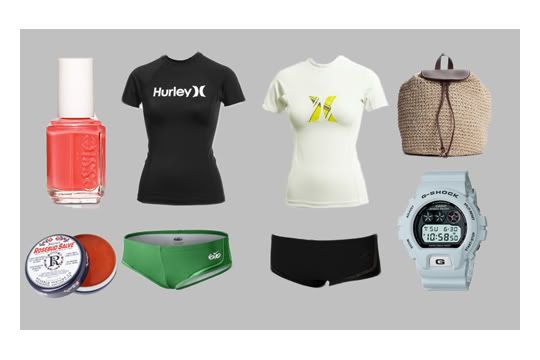 1. No matter what I'm up to, I'm a complete and utter nail polish junkie. If I'm in a funk? New nail polish. Bad grade on a test? New nail polish. Awesome day and I want to treat myself? New nail polish. There is an actual bucket in my closet that is nothing but a veritable feeding trough for my addiction. I have a love affair with shades of coral, so when I found this sunny coral Essie polish in California Coral, I added another bottle to the bucket - $7 at Walgreens.

2. Other than liberal applications of high SPF sunblock, it really doesn't make much sense to bother with makeup when you plan on being in the ocean. In fact, it's kind of stupid. However, all that salt water can fry your lips and that's where Smith's Rose Balm comes in handy. It'll stave off chapping and even out of the water, it's a nice little gloss. Plus, I'm kind of loving on the antique-y tin that it comes in. $6 at Sephora.

3. Rashies. I loves me some rashies. Rash guards were originally a surfer thing to prevent chaffing. Growing up with a surfer for a brother, I picked up the habit of wearing them myself (despite only being able to wake and skin board). They're a great alternative to a bikini or even a traditional one piece. I hate my stomach, so anything that allows me to cover that up and still be functional is a win in my book. Plus, being a busty girl, I can totally get away with wearing a proper bra underneath for support. Both of these are Hurley and can be found at Tactics for about $40.

4. I personally really like the look of contrasting separates. And these bikini briefs from Nike offer great coverage for your booty and come in some great little colors. About $40 from Nike.

5. Growing up, every single one of us had one of these stupid straw backpacks sitting by the garage door, ready to go. They were perfect for carrying a change of clothes, your wallet and anything else you had with you without worrying about your day purse getting trashed by the sand. In the course of my life, I've probably gone through about twelve of these things, all of which I bought at the little local stores that plague the beachfront.

6. When it comes to watches, I tend to favor men's styles. My father is a professional diver and I used to love the ones he always wore. It's also the only kind of jewelry I'll wear in the water. (Excepting, of course, a stint in my teen years when I was preoccupied with cowrie shell necklaces.) This one from G-Shock is both water and impact resistant and I completely love the version of it in Chalk White. $110 from Tactics.

Every time one of my friends visits and is blown away by the massiveness of the ocean, I can completely understand. It's been there my entire life, but I'm never out of awe of it.

So to my friends and readers stuck landlocked and/or in the blizzards sweeping parts of the country, I'll make sure to stay in the water extra long, just for you. And look great doing it. But here's some Ace of Base to keep you company: