So the lady wife recommended that I take a gratuitous pic of the products I use on a typical basis and regale you all with them.

Now, I'm a firm believer in "happy wife, happy life" and there for am doing exactly as I have been told: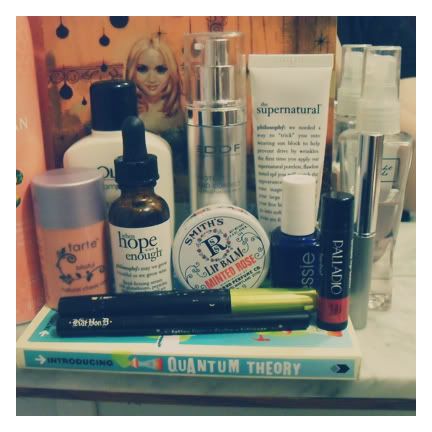 My daily routine is honestly fairly sparse, despite how it may look in the picture. I'm extremely fair skinned and extremely paranoid about looking aged because of sun damage so a good moisturizer is a must for me. Especially one with an SPF in it. I tend to rotate through DDF ($60 from Sephora) and Oil of Olay ($8 from Walgreens) at various points in the week. There really is no rhyme or reason for why I do that, only that I tend to grab whatever is nearest at hand.

Two things my mother turned me onto in the last year that I never gave two shits about before are foundation (namely Philosophy's The Supernatural $30) and corrective products (Again, Philosophy, this time their Hope is Not Enough facial serum ($30 from Sephora).

Ive spouted off about how much I love The Supernatural before, and my zest for this stuff hasn't wanned at all. It's a whip cream texture that feels like there is zip on you and provides amazing coverage for pores. If there is one investment makeup you'll ever make, I suggest going after that one.

I like to take the three step rule when it comes to the actual makeup though. If you need more than three products, you need to edit. Lately, it's been pruned down to mascara, liner and tinted balm. Two of these products I've already mentioned on Magnolia (Palladio lip balm and Kat von D's Tattoo Liner), and just like my foundation choice, I have yet to find anything fault with them and nothing better has presented itself as yet, so they're staying in my bag.

However, I recently picked up Rimmel's Lash Accelerator Mascara. I'll admit, my sole purpose in buying this one was the flashy chartreuse packaging. It's my favorite color and I'm shamelessly attracted to it. Luckily, it turned out to be a solid buy. I don't know if it's really enhancing my lashes like it proclaims, I'll have to get back with Brooke Shields about that one.

I'm a nail polish whore. I have been since that glorious day in middle school when I came home and found on my dresser a bottle of ballet pink Revlon nail polish and a tube of Lip Smackers from my mother who felt it was time to gussy up her Tom Boy. Point of fact, I feel a little weird when I'm not wearing nail polish. Ergo, I always keep the bottle of whatever shade I'm wearing close by and ready for touch ups.

A new nightly ritual I've recently adopted is to tap a bit of Smith's Mint Rose Balm on my lips right before bed. It makes me feel all kinds of girly and crap.




As past posts have revealed I've become quite the little fumehead in the last year and my perfume collection is ever growing.

I know there's a major school of thought that a woman should have a particular signature scent (the one that reminds old lovers of her whenever they come across it), but I'm big on scenting for mood and for the person I'm going to be around. If I plan on being around my girl Chel, I make sure to spray a little L'eau d'Issey because I know it reminds her of happy memories with her gran. If I'm going to be around a man I'm attracted to, I wear something with amber in it because to me it's such a womanly scent and it makes me feel sexy. At night I rub on a little Versace Bright Crystal because I find it relaxing.

Fragrance is a very "mix to meet your situation" kind of adornment. That's why I love it so much.

I also wanted to include the picture of my dresser because it features the mirrored jewelry box I was lusting after months ago and gifted myself. I'm quite smitten.

Hopefully, this will keep the lady wife at bay and possibly inspire you all to take a look at what rituals you observe in front of the mirror.