So I got my very first Birchbox today. Birchbox is a service that sends you five luxury samples a month for $10 and gives you the chance to try out more expensive beauty products without the money commitment to see if you like them.

I've been waiting for it to show for weeks now, so I pretty much tore into it and was actually really pleased with what it offered.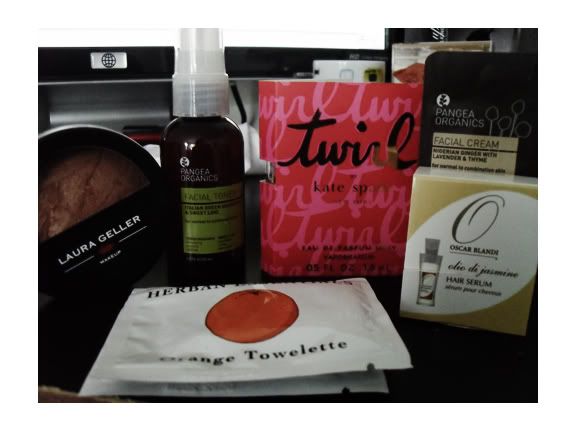 1. Sample of Kate Spade's Twirl: I've been meaning to try this one for a while. I'm an avid fumehead and I love the bottle. On the first breath, what strikes me first is the alcohol smell. It's fairly present with this, but that soon settles into a warm fruit bouquet with a faint floral musk. I actually rather like it on the cool down. I typically don't fancy fruits at all and florals I can only take in measured doses. While I might not buy a full bottle of this one, it does come in a roller ball vial, which I'll definitely pick up to use as a summer fragrance. Full bottle $50-80.

2. Laura Geller Baked Blush n' Brighten: I've actually never tried a bronzer or highlighter before this, but I must say, I'm rather impressed. I received a full sized compact of their shade Honey Dipped, which usually retails for around $30, which makes the Birchbox $10 monthly fee worth it, just for that. I'd really like to check out and see what other items she offers.

3. Oscar Blandi Olio di Jasmine Hair Serum: I just chopped off two feet of hair so I'm definitely in the market for some new hair products to keep my virgin hair as nice as I possibly can. I actually had a go at this product a long while back, but wasn't sure I really needed it. I don't have too many problems taming frizz, but I like that it adds some gloss to dry hair without requiring a blow dryer. It also claims to protect against heat, so the next time I flat iron, I'll be sure to bust it out. Full bottle $35

4. Pangea Organics Toner: This stuff smells amazing. I haven't used it yet, but they also threw in a sample of their Nigerian Ginger/Lavender and Thyme facial cream. Both of these I'm planning to use tonight after my shower. It's paraben free, which has become something I'm looking for increasingly. Full bottle $26.

5. Herban Essentials Orange Towelettes: While I love that these are individually packed, thus great to tote in a purse, and use natural essential oil as a cleanser, the orange smell comes on extremely strong and overpowering. I'm wondering if they might have other aromas since the orange essence in this one reminds me too much of surface cleaner. That said, it really did make my hands feel nice and clean, I just wish there were a way past the smell.

All in all, my very first Birchbox experience has been a pleasant one and I can't wait to get the next one in July.

I did mention that I cut off almost two feet of freaking hair last week. This is a massive deal for me as before that I hadn't let anyone come near me with scissors for nearly seven years. My hair was down to my ass, yo.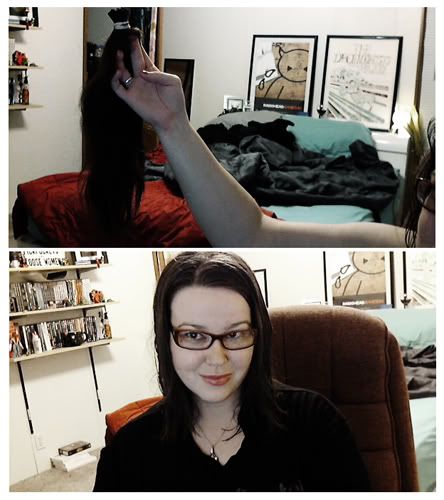 It was a shock, but I'm actually loving it. Because I'm a broke bitch, I went to SuperCuts but the fellow there was super nice and crazy efficient. He got me in and out of the chair in about 15 minutes. I seriously couldn't believe it.

He also sent me home with a new shampoo from Paul Mitchell called Tea Tree Special which is crazy effective on the flake problem I was having and smells amazingly of mint.




The bottle was about $12, but that's worth it to me for the results, especially considering prior to this I was using Philosophy's Vanilla Cake ($16), which I'll continue to use as a body wash. The Tea Tree Special leaves my scalp with this awesome tingly feeling that I'm absolutely loving.

Fumehead that I am, it turns out that I'm also the kind of girl that will buy perfume at a god damned comic shop of all places. Tokyo Milk's Eden, to be exact, and no regrets, yo.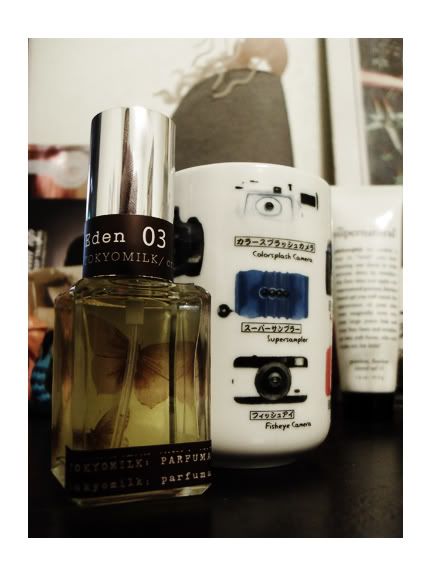 Tokyo Milk is definitely an affordable brand, typically priced at $28 for 1oz bottle and each comes in its own stylized flacon. I happened to find Eden on sale for $19 at said comic shop (which I'm still giggling about) and I'd been meaning to give them a try for some time now.

I love it. The scent itself is a milky grassy floral. The cassis and white iris combine so well in this one, and for the price range and the fact it's a toilette, surprisingly long lasting. I'm eager to try their Dead Sexy and Lotus Snake as well. I keep finding myself drawn to woods and grasses lately. Personally, I think that's perfect for summer.

And just to rub it in, check out the amazing purse I got on the cheap!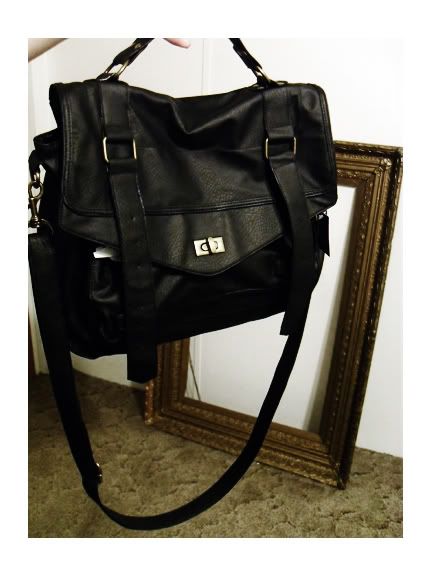 I have a trip coming up this summer to New York to see my lady wife, and I think this satchel style purse is going to be just the thing to get me through that week.