God, you guys. I accidentally the whole thing at the perfume counter again. As my education as a fumehead continues to grow, so too does my collection of of perfumes. This week, I've netted an additional five to my little fleet and added two more to my "buy these immediately" list.

The truly bizarre thing is that so many of the ones I've been purchasing lately have been florals. I never buy florals. I'm an Oriental kind of girl. I'm the dramatic amber and spice girl. I don't need no stinking flowers. Except maybe I do.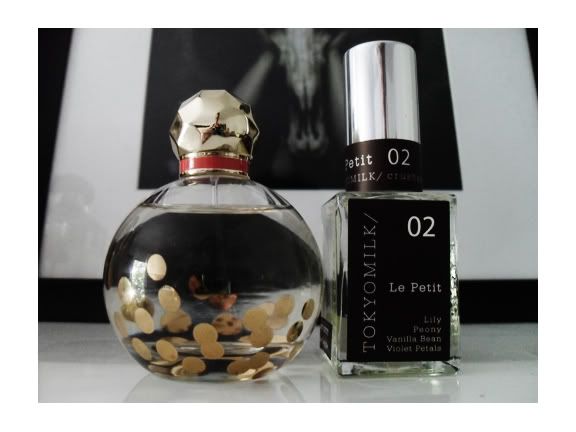 1. Last post I mentioned that I was given a sample of Kate Spade's Twirl in my first Birchbox. I had intended on getting just a rollerball of the stuff, but I ended up caving once at the counter and bought a 1.7 oz bottle instead. As I mentioned before, it's a fruity floral with a musk base. It's lovely and it makes me feel festive when I wear it, so it was a total keeper. $50

2. Tokyo Milk is fast becoming a new obsession of mine. Cheap, well made, variously themed, and attractively bottled, I'm essentially hooked on the line. They also make solid perfumes and candles which I'll need to look into as well. I've previously bought their fragrance Eden which is a blend of cassis, greens, iris and musk. It's weird.. And I'm in love. This trip I ended up buying their scent Le Petit, which, with it's vanilla bean and violet, is almost a gourmand and my first in that family of fragrance. It's a sweet little mix of edible scents balanced with lily and peony. It's the kind of thing I'd wear to have dinner with my parents. $28.


Now this is where I started to get into trouble.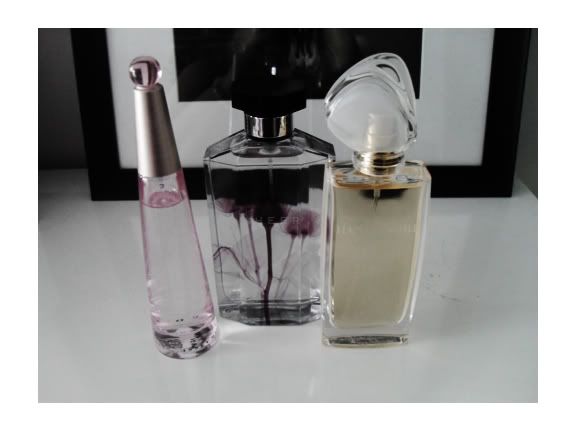 3. I've been a fan of Miyake's super aquatic L'eau d'Issey for a while now. It's a fresh, beachy, I've been fucking in a hidden grotto kind of scent. They recently introduced a version called L'eau d'Issey Florale. I was skittish about it because I had found myself extremely disappointed with their summer release this year. After seeing all the advertisements for it over the last couple of months, I finally caved and tried it out. Where as the original L'eau d'Issey reminds me of a naughty mermaid, this is very reserved and sweet. The original's church going cousin that has never cussed a word and always crosses her ankles. That said, it's not as timid as I'm making it out to be. It's a good introduction to those Oriental Sheba types, like myself, who are looking to give a floral a try.

4. Growing up, I used to think that all perfume was supposed to smell like roses. That this was the most romantic, most big girl kind of scent. I remember being little and wanting to be old enough to wear rose perfume because that's meant that I'd finally be old enough to be considered a woman. Turned out, I absolutely hated the reality of what roses really smelled like. Looking back, I just don't think my 15 year old self understood what fragrance was really supposed to be about. That, or going through puberty and it's hormone avalanche was making me respond differently to fragrance than I would as an adult. Since going through my apparently floral orgy, I found myself willing to give roses another go.

Enter Stella by Stella McCartney. I've been hemming and hawing about this one for close to a year now. It's gorgeous, but it's a parfum and a little more pricey than my usually fragrance splurges, but it's been haunting me for so many months, my resolve finally capsized when I came across a bottle of her 2011 edition of Stella Sheer. (Sheer is her annual summer release.) This one is an eau de toilette and just that perfect perch of dramatic, womanly rose and understated politeness.

5. While purchasing my Florale and Sheer the lady at the perfume section loaded me up on several samples. One of which was Hanae Mori's Pink Butterfly. I wore it out to dinner dabbed on my wrists and every time I brought the fork up to my mouth I'd catch another whiff of it's super sweet notes. I went back to the mall the following day and bought a proper bottle of it.

Now, here's the thing that I've learned about this one since buying it. It tends to evoke a love it or hate it passion in the women who have tried it. The women who love it say it makes them feel like a sweetheart candy princess and the women who hate it say it smells like a fairy vomited a pound of cotton candy. It may just be the way the fragrance reacts with my skin, but along with the sugary top this is one that tends to settle into a very earthy breathy-ness on me. I don't find it overly saccharine or childish as it seems to often be accused of and I don't find it overwhelming either. As I said, this may just be one of those fascinating skin reactions that any fumehead is familiar with. Where as this one pulls out earth notes on me, Chanel No. 5 makes me smell like gin.

Never doubt the fact that your skin is the fourth note, kids. That's why you should always test a fragrance on your skin instead of just the little paper swatches they give you.

Additionally, I got a couple other samples, neither of which I'll be purchasing, I don't think. Pure from DNKY is apparently supposed to be inspired by a "drop of vanilla in a glass of water." Surprisingly, that's exactly what it smells like. And it's not a bad smell. There just isn't anything else to it. It's just boom. Vanilla. Extremely, linear.

The second one I actually got out of a copy of the new Beyoncé album, 4. It's her first fragrance called Heat and to be honest I don't know what to make of it and despite the fact that I really, really wanted to like it, it's sort of a mess.

Heat definitely is not the go-to fruity floral crowd pleasers that most celebrity lines tend to be, but at the same time it comes on heavy like a Mack truck without ever letting the notes be defined. They hit me in the face all at once and then faded extremely quick. However, I'll still give any of her other future fragrance attempts a try just because I love the girl so damned much, but I need to pass on this one.

That said, Dita von Teese is rumored to be cooking up her own signature perfume and I'm itching to try it as well as her beauty book whenever it is finally released.