So, I have a fancy pants gallery opening tomorrow for some of my photography. I know, I can hear the collective "Oh la la." And you'd be damned proper to do so. It's a big deal and has continued to further bloat my already disproportionate ego. Which, of course, means the pride monster over here needs a new outfit.
Behold. Silk blouse. Leather skirt. In pink no less!
Pink is a pretty massive venture for me, even one that keeps itself in the peachy blush spectrum. I thrive on my neutrals. Grey, black, white, brown. I'm damned well comfortable in them. They work for me. But I'm also getting to a point where I'm starting to think of them as lazy. Or at least my cop out reliance habit is.
To be honest, I'm feeling the style shift again. I'm sure a lot of that has to do with the fact that I've lost a lot of weight this year and I'm finally able to really picture myself in the kinds of things I've always coveted.
The problem with massive weight loss (and so far, the only problem I've come across) is that your established wardrobe quickly becomes obsolete. Your old stand-bys are suddenly limp fabric that no longer fits. Course of action? Clean house.
The last couple of weeks I've probably gotten rid of three gimongous trash bags of clothing. The result is I'm down to bare bones of essentially panties, work clothes, some jeans and my opera clothes. And while I look positively smashing in Bordeaux colored ball gowns, even I have to admit it would be a damned sight of
what the shit
if I were to waltz into Chipotle sporting that. Or I'd be the greatest Ab Fab cosplay enthusiast
ever
.
Now, quite a while back I mentioned Nina Garcia's books on style. In fact, I praised them. Honestly, now, they're great. If you don't already have it, go buy The One Hundred by Ma'am herself. I'm rereading it again and it's still just as good and relevant and a great tool for rebuilding your trousseau.
Recently, they opened a Nordstrom's Rack out near where my mother lives. I had yet to venture into it until today. Frankly, it's kind of a mish mash inside. Drugstore cosmetics in one corner, CDs in one bin, high end purses over there and scores of clothes everywhere. I had the feeling I had walked into a hoarder's house who just happens to have access to a black Amex card. I'm sure if you had the patience to dig through it all you'd probably turn up some real gems, but I just ended up poking around a bit, finding a couple things and calling it quits.
Those two things were a totally bitching greatest hits album of James Brown for $4 and a bottle of Versace's Crystal Noir at 30% off. It goes without saying that the James Brown cd was fabulous, but the Crystal Noir was more pure impulse than anything.
I bought Versace's rollerball of Bright Crystal, the lighter, more floral prominent sister fragrance to this one, a while back. It's pleasant, sheer and a good after the share scent. This one is definitely a little darker. More pepper notes, more aldehydes, but it shares the amber and musk base the other Crystal's do. It's not what I would call a femme fatale fragrance (what I'm imagining Femme Totale from Dita has just
gotta
be), but it's nice. Might prove to be a good first date scent. You know, when you don't want them to know just how much of a freak you can be. Before you bust out the
Lempicka
or the Mugler
Alien
, but after you wore some vanilla crap when you first met.
Speaking of impulse buys, for some reason I've been snatching up a lot of hand sanitizer. I'm around people all day because of work, so it's inevitable that I'll eventually catch someone else's cold, so perhaps this is just subconscious preventative shopping, but whatever it is, I've noticed the trend. The top two I've come across are Jurlique's Australian bush mint gel and EO's peppermint cleansing spray. The interesting thing about the peppermint spray is that essential oils are natural sanitizers. I bought this little spray tube while standing in line at Whole Foods, of all places, but I rather like it. Especially at $2.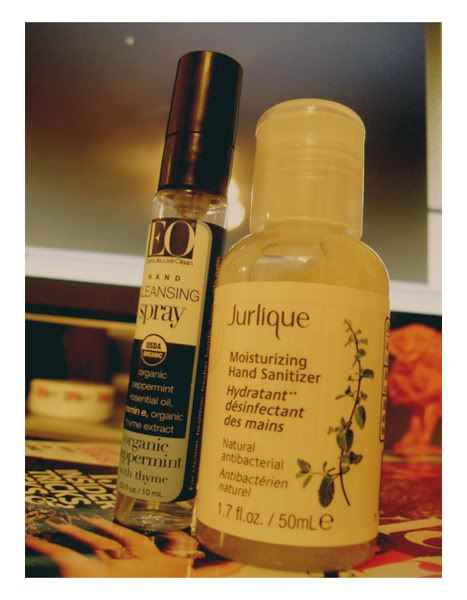 This isn't so much fashion related as it is impulse shopping related, but I'm all skippy about it regardless: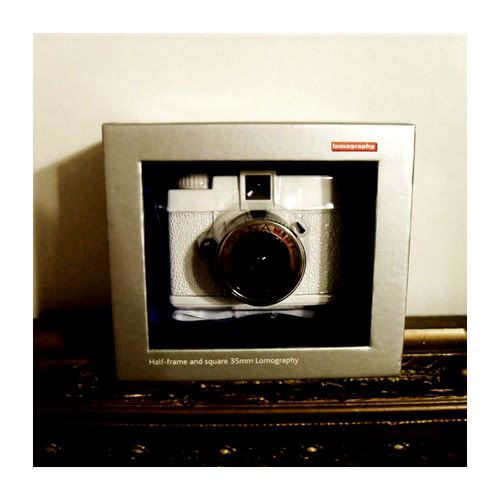 I finally bought a Diana camera. She's so tiny and light and cute and I've named her The Wee Baby Seamus.
This is the part where you worry, my friends. This is the part where you worry.