Somehow, I became obsessed with button down blouses. I don't know how this happened, as I've always had to steer clear of the damned things since, big tits and center buttons do not the best of friends make. But lately, I love them. I actually picked up a couple the other day at Express with some great little silver embellishments.
For months now I have been on the prowl for the perfect pair of cigarette length jeans and pants. I love how the style shows off heels and ankles and it also makes it so easy to take a slightly stuffy ensemble and turn it into polished casual.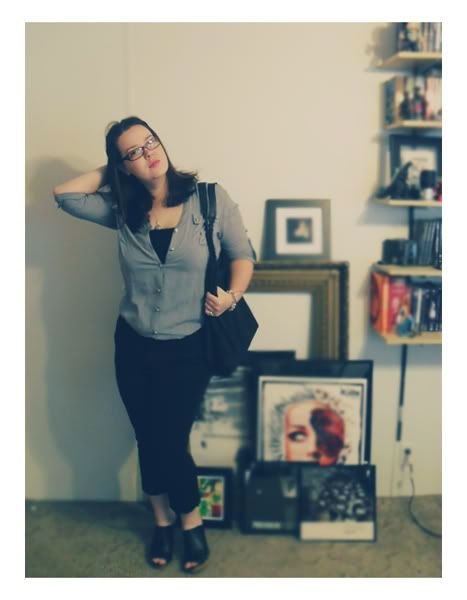 I haven't found my perfect pair of denim cigarette jeans, but I have faith that they exist and one day, hopefully soon, they too will cup my booty and offer up the awesomeness I know they possess.
One of the things I'm sort of known for (other than impulse perfume purchases and a general distraction with all things spooky) is a predilection towards ornamentation. This bitch loves to accessorize. So, the other day when I bought a massive cloth purse with which to lug my crap to and fro, I ended up slapping on a couple of the buttons I bought at The Kills concert up in New York a couple months back.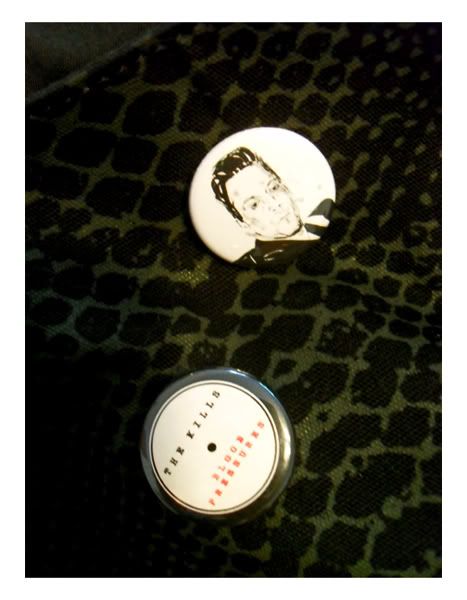 These are Jamie Hince and the new album logo. I also have one of Alison and the band's logo on another purse. Because I have no shame and I will always at least partially be the 14 year old kid who thought musical preferences were a defining personality trait.
It finally happened. I bought my very first Guerlain perfume.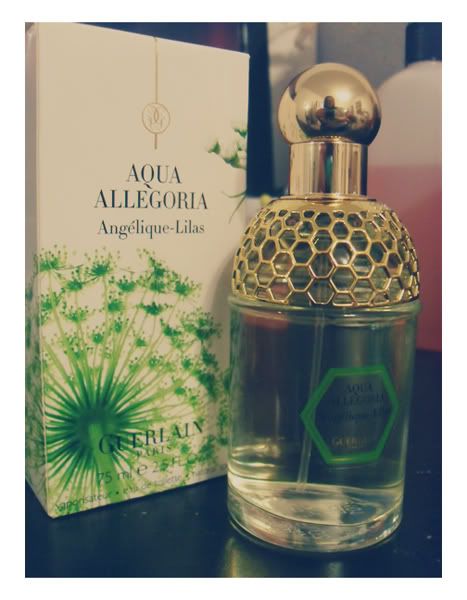 It's Angelique-Lilas from their Aqua Allegoria collection. I love absolutely everything about it. It's a very green fragrance, super light, with a low sillage. The flacon is absolutely perfect with it's clear bottle and honeycomb motif. There's a very light creamy flavor that warms up at the very end of it's (long) life, which is the angelica notes. There's a strong thread of lily and a bit of earth and honey and I'm seriously over the moon about it.
It's a lot quieter than the riot of their Insolence, which I recently tried, or their tried and true diva amber must have Shalimar, but it more than holds its own, and this subtle linear has an extremely long staying power. On a related note, I've been hunting around for Shalimar's recent
Initial
edition. As
Katie Puckrick
calls it, "a training bra for Shalimar." So far I haven't found a counter who has it, just the traditional version of it, but Imma keep looking around for it.