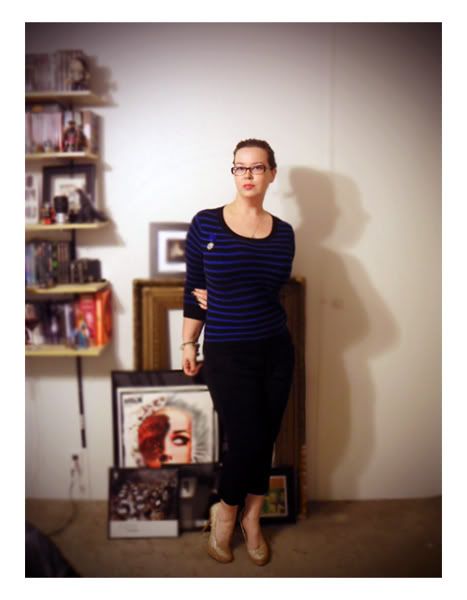 So, the lady wife has been after me forever to try more snug fitting sweaters a la Lana Turner. And while I'm not exactly ready to strap on the bullet bra, JP was right (as she infuriatingly, typically is) I am rather liking the look.
A while back I posted about Michael Kors' navy, black and mod all over collection that had me entirely twitterpated. I keep catching myself buying up things in this color palette and I'm totally digging how bold navy on black can be while still being pretty understated. Or whatever.
I have always had a thing for brooches. My great grandmother always wore them and in my mind they've always been that little slice of ladylike-ness that gets neglected these days. Unfortunately, given the fact they aren't exactly en vogue at the moment they can be hard to find, so I'm stuck crafting my own: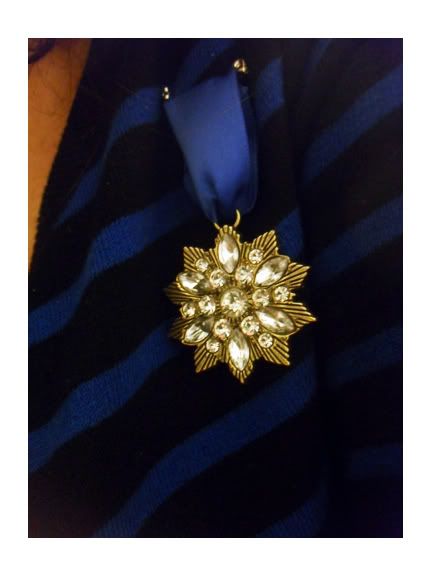 I like the little military touch this has. The medallion is super kitschy and, on the whole, was easy to make. I'm liking the medal idea as an alternative to the super traditional women's brooch and I'm already looking forward to whipping up some more.
Can we just take a moment to gawk at my gold glitter, wtf stiletto platform heels?
I bought these to go with my gown for my best friend's wedding. The gown was a full length black number so you would only catch glimpses of how INSANE these heels are, but I keep on strutting around in them ever since then.
And while it's not an proper accessory, check out the new specs: