At the risk of forever loosing my cred as an absolute badass, I will fess the fuck up- I love the ballet.
There. I freaking said it.
I've actually been dancing since I was a wee little pigeon toed monster: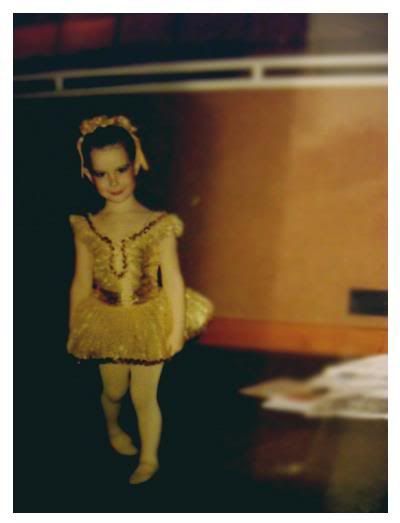 It's been one of those things that, like martial arts, taught me self reliance and discipline. But where as the martial arts taught me to defend myself, ballet gave me a relationship with myself. Even as an adult, it has provided this channel to focus the complete and utter mess that fidgets its way through my head.
And let's face it. Dancers have great butts.
My mother is what you'd call "cultured folk". As children, we had family tickets to the opera, symphony and musicals. Where as dance has been my great love, for my mother, her passion was always music. Even when she wasn't trucking me off to classes, recitals and intensives, she would always purchase tickets to the ballet for me, usually Miami City Ballet. Giselle, Don Quixote, La Sylphide. I loved every one of them and twenty two years after I first put on my slippers, I still find a miraculous stillness inside myself when I witness the craft.
One of my friends freaked out recently when she caught on to my dirty secret, namely, that I have opera going clothes. Which, coincidentally, I also wear to the ballet:
None of my formal gowns really fit me anymore, and that's on the list of things to get, but for now, this has been my go to dress for formal occasions. I like that the length on this one isn't the traditional floor sweeper that most people acquaint with stuffy functions. And, oh, look. It's navy, black and white. Something I've never tried before.
One of my friends also recently asked what I wore to ballet class and I felt bad when I burst her bubble when I admitted that I don't typically wear the standard leo and tights that reigned all through youth classes. The reality is usually closer to leggings and band shirts: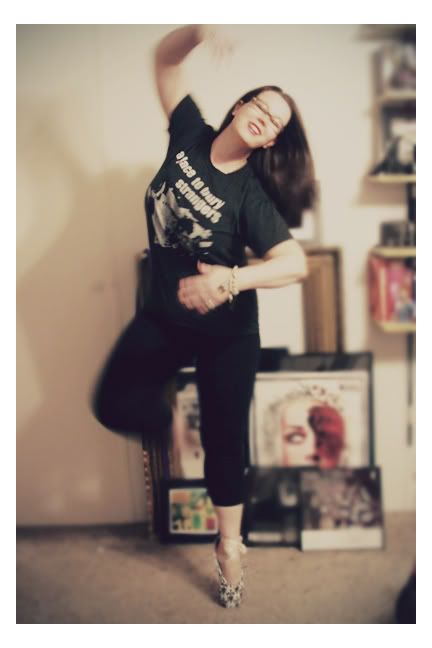 I got a little crafty a while back and when I stained one of my rehearsal shoes, I decided to make them all kinds of funky until the boxes died (pointe shoes are idiotically expensive, I'm not tossing a pair over stained satin) and the result was this:
A pair of pointe shoes that, while still positively functional, will never see a stage. I still rather fancy them though.