I finally found those pants I've been hunting for. Huzzah!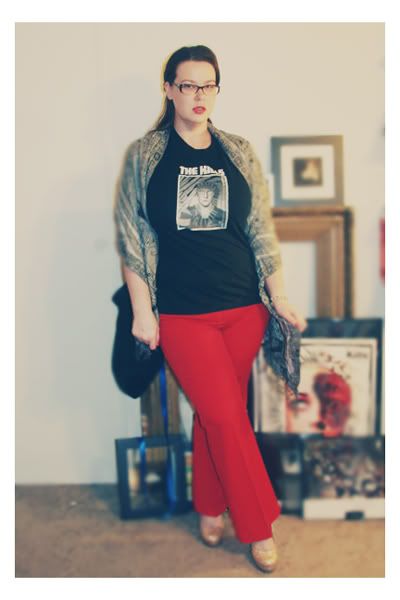 I also finally found yet another excuse to truck out my favorite The Kills shirt and my ridiculous black and white hippie dippy shawl that I got God-knows-where.
Hopefully, I shall now find a new color to fixate on. Perhaps sienna or aubergine or something else equally obnoxious to say. We shall see.
I also finally invested in a non-canvas gigamous purse.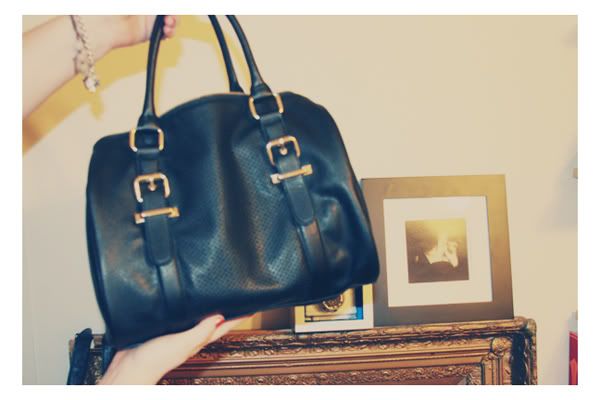 I'm very proud of myself. Since I can't possibly carry every single thing around in this one, maybe I'll manage to go home more than three times a month.
My mother is known, nay,
revered
for her hair accessory collection. Baby girl collects these things like aging comedians collect vintage cars. They're jeweled and gaudy and I've absolutely coveted them for years. Only rarely have I managed to get her to part with one for an evening for a special event.
Well, while in Paris, my father, rather brilliantly, mentioned her hair was messy and in a fit of true Southerner drama she went and hacked it all off into a very cute pixie cut. Whether she'll stick to her guns and never grow her hair out again remains to be seen. However, it looks like this is possible since she gifted me (most) of her hair pin collection.
Like I said, gaudy and fabulous.
Also, Sephora gifted me an awesome $20 gift card last week and I opted to refresh my Stilla Smudge Pot in order to do cat eye liner. I'm sure pretty much everyone ever on the interwebs has seen this awesome tutorial, but I'll still repost it for those of you wanting a booster lesson.
How to Be a Girl: Cat Eyes By Magic! from The Hairpin on Vimeo.