Between my new found addiction to scented candles, perfumes and air fresheners, I'm becoming quite the fumehead lately.

Now, my mother is the sort of woman who bought a lion's foot bathtub specifically to enjoy the luxury of bathing in oil-infused water. She's that woman.

So, what else would the daughter of such a woman be but someone long infatuated with the olfactory world of perfumes? Truth is, I'm a total newb. As a young teen I would snatch up all those fruity/candy body sprays they had at the drug store and shower myself in them, but I had no true understanding of the complicated workings of scent.

I've already made a post about the very basics of perfumes, but once you know the differences between Eau de Toilette and Eau de Cologne where do you go from there?

The simple answer is the store. And with this straightforward solution has led me to accumulate the beginnings of a true collection rather quick and a list of wish-I-hads growing even faster.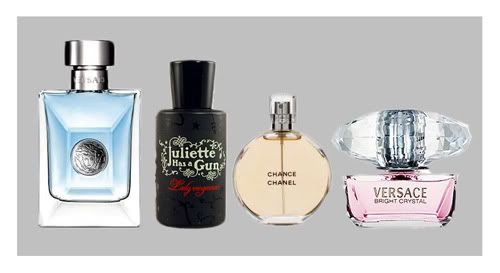 1. Versace Pour Homme is my latest acquisition. I originally got a tiny sample of it with a makeup order I placed with Sephora a few weeks ago. While it's marketed towards men, I really fell in love with the way it reacted to my skin and followed me through the day. It has a very light, Mediterranean scent to it. With bergamot and Diamante citron, it carries an almost aquatic smell to it. I even managed to find this one on sale at Target of all places.

2. Lady Vengeance by Juliette Has a Gun is one of those sitting on my Want It/Can't Afford It list. It's a full rose scent, that avoids being dowdy and maintains a younger chord. It's often discribed as a "bad girl's" scent and I can def understand why. It's hard to describe scent without handing over a vial and saying "whiff this", but trust me when I say that the dark, woody rose of this one makes you feel a little naughty. And after all, that's what perfumes are really about for me, making you feel like you can slip into a personality and truly own it.

I'm told that Kat Von D's Sinner is a pretty good dupe of LV, and at the much more pocket friendly price, I'm thinking of snatching up a bottle of that instead:




3. I've mentioned Chanel's Chance once before here on Magnolia, but I'm mentioning it again, because the soft ladylike qualities of this perfume have continually drawn me back to it. It's also worth noting, for those brand lusty types, purchasing a high fashion house's perfume is an affordable way to buy into a brand's line without too much guilt.

4. Another Versace perfume. Pretty soon you'll all think I'm secretly Nomi from Showgirls. Bright Crystal was an unexpectedly light and feminine find for me. Another discovery through that same Sephora package of samples, I'm rather liking this one. It has a nice airy gourmound fruit and pale amber makes it a great after-the-bath scent.

I might not have reached the lofty skill of my mother and her bathing oils, but I'm working towards it. Slowly, but sweetly.