It has been go-go-go around here lately, and to be honest, I'm sort of loving it. I just got back from an amazing trip to New York to see my fashion wife, take in the sights and catch an amazing show of The Kills and A Place to Bury Strangers.

Which brings me to my latest outfit: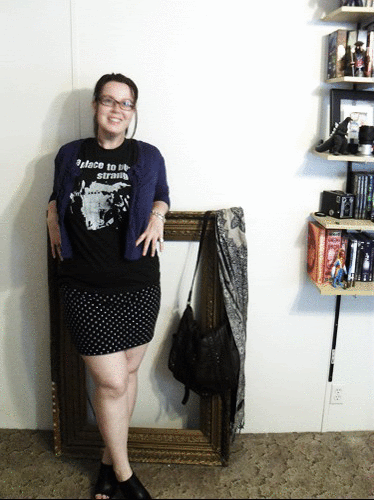 I'm in the middle of a massive weight loss regime, which, to be honest, is taking a toll on my fashion sense. My clothing doesn't fit the way it used to and is usually falling off me. This is fantastic news when looking at every angle except my wardrobe. I'm down to the last 25ish pounds and while my usual clothes aren't fitting, I'm also balking at investing in new clothes when I'm still not at the end game weight.

There are two things that never look out of place when (newly) oversized: band shirts and cardigans. These things I have in spades. I picked up the newest shirt at the concert in New York and the cardigan from Target I've been toting around for years. The cotton mini skirt is also a Target buy and at $8 I was able to justify stocking up a bit on those. Skirts tend to be a little more forgiving on fit when compared to jeans and slacks.

And shit, kids. It's summer. In Florida. Skirts are just better heat survival sense to me.

So much to update with. So many pictures to share. So much fashion and beauty bullshit to spout. And I will. Soon.