Your best fashion accessory is
always
going to be your skin. So take care of it for fuck's sake. Over the years skin care products have become one of my favorite indulgences.
Growing up, my mom swore by Oil of Olay and Noxzema, which later became Oil of Olay, Noxzema and sun block, which later became "For the love of God, child, put on sunblock". And she was right. Having breached her fifties, my mom still has minimal wrinkles, a damned miracle for a woman who has spent the bulk of her adult life in the South Florida sun. That said, my own skin care regime isn't nearly so fixed as my mother's and I have a habit of trying out new products on impulse and recommendation but there are are a few items that always stay in rotation and here they are: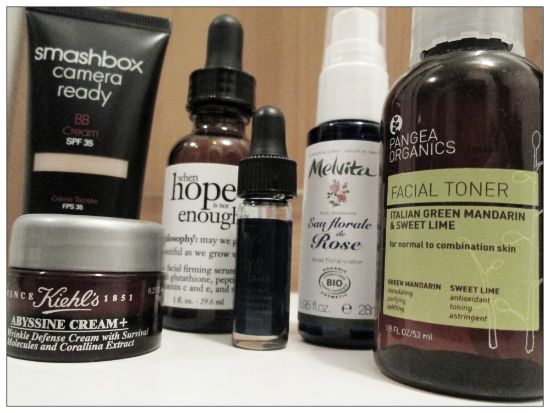 1. Two of my favorite items are from Kiehl's and the first one up is their Abyssine Cream which is a fantastic little eye cream and a little goes a long way. Apparently, some researchers in the Galapagos noticed some iguanas and tortoises strutting around the beach looking wrinkle free and investigated and came up with the abyssine molecule. The great thing is it's super hydrating without making you sticky or slicked up like some sort of BP spill out in the Gulf.
2. That said, having great, nourished, lovely looking skin won't mean jack shit if you spackle over it with cakey looking foundation. BB creams have been making a big stink all over the place for the last two years and while the Western versions bear little resemblance to their often superior Asian counter parts, a lot of them really are fantastic and my go-to for a while has been Smashbox's Camera Ready BB Cream which one of my best lady friends turned me on to. It's incredibly light and has great coverage without making you look all Whatever Happened to Baby Jane, plus comes equipped with a 35 SPF. (On a side note, another shockingly great foundation I've found is Dior's Airflash Spray Foundation. However, I really only bring this one out for special occasions since it really does require a lot more effort to apply evenly, but a great choice if you are having pictures taken or attending an event.)
3. I've mentioned Philosophy's When Hope is Not Enough before and for a reason. I really do love it for all of its firming qualities. After a long night, a hard cry or just for use as a good preventative, it can't be beat. Growing up, my grandmother used to caution me that women always pay so much attention to their face and the signs of aging there but always neglect the back of their hands which age just as fast and that's exactly where I dab this one.
4. Kiehl's second spot on this list is their Midnight Recovery Concentrate which was another heads up from the same friend who told me about the Smashbox BB Cream. Apply it with a light hand, fall the fuck to sleep, enjoy not looking like a hag in the morning. It's that simple, ladies.
5. My grandfather ran a pharmacy for years and my grandmother was notorious for handing out beauty advice, both solicited and not, to patrons. One of those recommendations was to put rose water in a misting bottle and spray in the morning before you apply foundation and at night after you take your make up off. It works as a toner and close your pores giving you a smooth appearance. It also comes in just about every price range imaginable, but I've been using Melvita's Eau Florale de Rose for a while now. That said, do a patch test with this as some people are allergic to rose and with the goal being to look like a flower you don't want to end up being a tomato.
6. Which brings me to an alternative to rose water that I have been addicted to for sometime is Pangea' Organic's facial toner, which is something that I've also mentioned before. Fumehead that I am, I am truly smitten with the fragrance white is green mandarin and sweet lime, so it's very fresh which is exactly what it does to your skin. I bathe very hot which dilates your pores for exfoliation so I spray a cloud of the toner and walk into it right afterwards to close them back up.
Besides sun block, exfoliation is the massive key to skin care. And for that, an exfoliation brush should live in your bathroom. You can always go and buy one of the fancy motorized ones, but really, why? Just go to Walgreens or Sephora and pick up one of the basic ones you use with your own damned hands for under $5 and go to town. To aid in that I go back to that family secret of Olay. I was a huge fan of the Definity pore scrub, but since it's been discontinued I've switched to their Total Effects Refreshing Citrus Scrub and get roughly the same effect.
A while back someone gave me a crapton of these packets of Precious Eye Balm from L'Occitane and eventually I'll run out and actually have to go buy some for myself, but for now, I'm enjoying it's biggest boon - it dramatically reduces dark marks under the eyes. I'm an insomniac and that fact definitely takes its toll out on my face, coupled with the fact I'm pale to begin with exhaustion bruising is unfortunately something I have to contend with and this product helps me win that battle.
Lastly, it's rather obvious that a lot of these products work best from the comforts of your own home and not so much when you're out and about on your day, and let's face it, your face is going to get oily and while I know the impulse is there just to use a compact powder to cover the fact, it's better to just keep a back of blotting linens in your purse, they absorb any shine that can appear and also double as a blotting tool for excess lipstick as well and I personally dig these green tea ones from Boscia. They come in a nice, handy little envelope and, really, what else do you need?