While much of the world is eagerly awaiting the turn of spring into full blown summer, here in Florida we maintain only two season: Summer and Nuclear. As such there are three items that will get you through it- Sunblock, shades and cotton. A smear of red lipstick doesn't hurt either.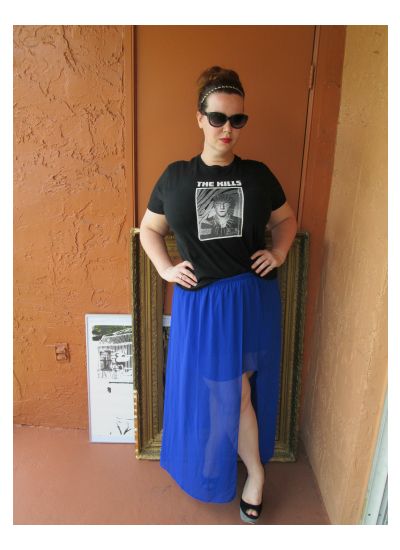 This Kills shirt is one of my all time favorite pieces of clothing and it gets a lot of wear. I honestly don't know how all those vintage tees from the 70's survive three decades to still see action because I live in terror that I'll destroy this one and I've only had it for two years. For a while there red was my signature color, and while I still have copious amounts of it, I've been vibing pretty hardcore on blue, specifically cobalt, this year. I picked this sheer gauzy number up at Nordstrom Rack a bit ago and bought a companion piece in black as well. Long skirts have been my weak point lately and the trend doesn't seem to be letting up any time soon. But who doesn't love a little drama?
Speaking of NR I managed to find these fantastic color blocked Vince Camutos there around the same time. I've been off my heels for a little while since I've taken up walking just about everywhere but I miss them like pancakes and for $30 I was swooning pretty hard.
See? Told you I'd get an outfit post up soon. Let's see if I can manage another one in a couple of days. If I don't, expect the worst. I've been killed by alligators or scuba ninjas or something.